The Hycroft gold and silver mine is located in the Sulfur Mining District, 54 miles west of Winnemucca, and straddles Humboldt and Pershing counties, in Nevada. The mine is accessible year-round via Nevada State Route 49 (Jungo Road). The mine encompasses approximately 71,000 acres, including both patented and unpatented claims.
In 2022, Hycroft completed an Initial Assessment on the Hycroft Mine. Gold Mineral Resources at Hycroft are estimated to be 9.65 million ounces of Measured & Indicated ("M&I") and 5.0 million ounces of Inferred. Silver Mineral Resources are estimated to be 446.0 million ounces of Measured & Indicated and 150.4 million ounces of Inferred. Hycroft has a long and successful history of oxide heap leaching operations. Today, the company is focused on completing the technical studies to transition Hycroft into a large-scale milling operation for processing the sulfide ore. In addition, the Company is engaged in a robust exploration drill program targeting higher-grade material identified through its work in 2021. The Hycroft mine is permitted for both heap leach and milling operations and currently has extensive infrastructure on-site, including crushing facilities, leach pad capacity, and two Merrill Crowe plants with refinery.
Statement of Mineral Resources (at February 18, 2022)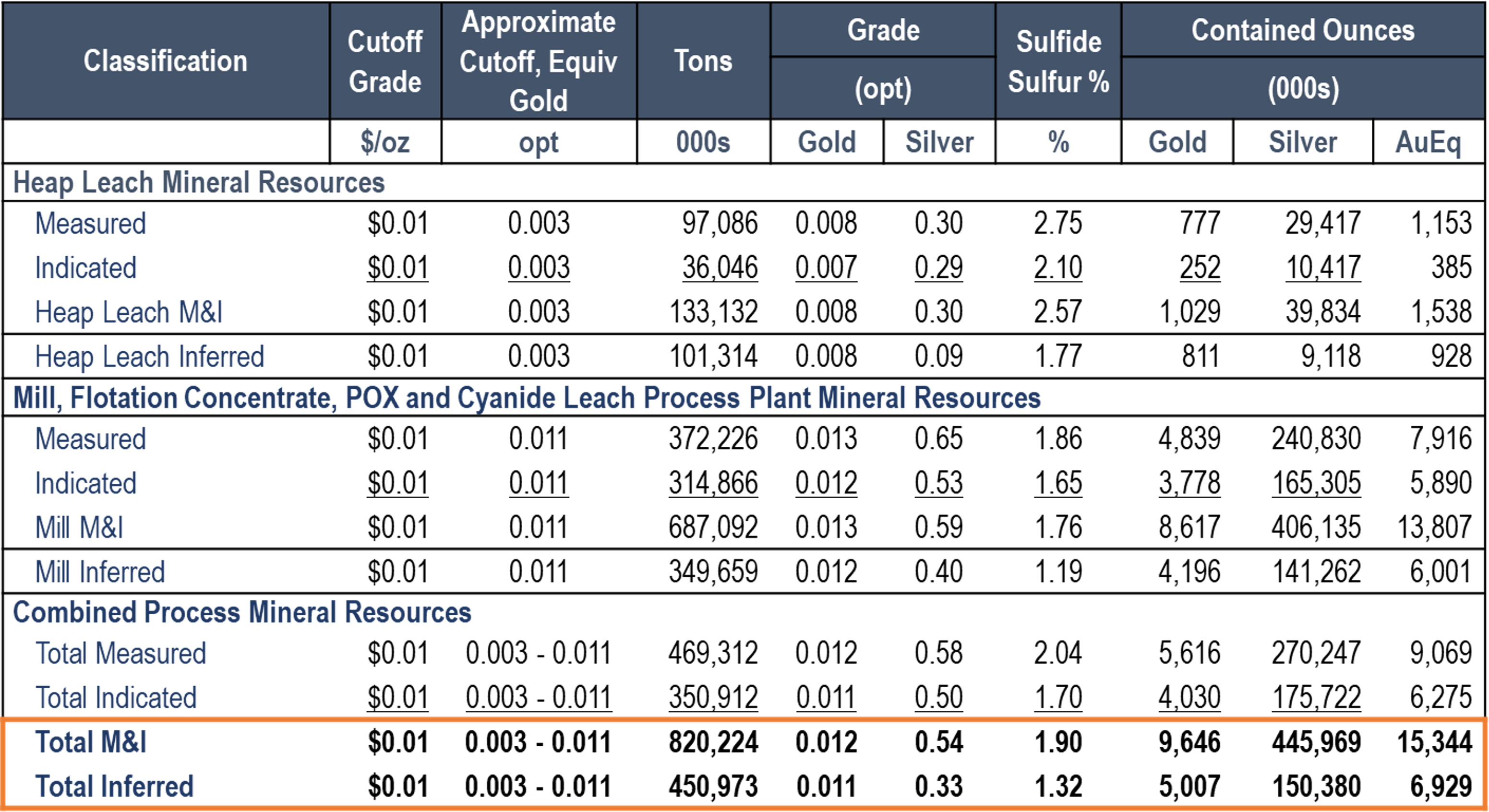 Notes:
Mineral Resources and gold equivalent are based on metals prices of $1,800 per ounce of gold and $23.00 per ounce of silver.
Cutoffs are income — process costs = NPR = NSR-Process OPEX.
Numbers may not match exactly due to rounding.
Mineral Resources are contained within a computer-generated optimized pit. Total material in that pit is 3.516 billion tons.
All units are imperial. Gold and silver grades are in troy ounces / short ton.
Technical Report